Spring Cleaning is Around the Corner
Post Categories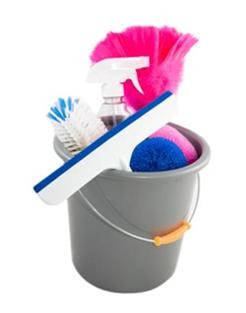 Spring is just around the corner! It's about that time to get excited about breaking out the spring wardrobe, driving around with your windows rolled down, and grilling outdoors with friends. It's also time to think about your "spring cleaning" plan and how you're going to tackle this tedious, yet necessary, annual project. Deep cleaning usually takes a fair amount of time and elbow grease, but in the end, it's so rewarding. We've listed a few spring-cleaning tips to guarantee that your home is one happy, shining, sparkling, spic and span, fresh place for you and your loved ones to live.
Windows and Walls
Break out the Windex and sponge (with rubber edges according to Martha Stewart) and start scrubbing away at your windows. Being able to clearly see out into the world makes a huge difference – plus Windex smells fresh and clean!

For cleaning dust off of painted walls, wipe down the surface with a clean, damp cloth or sponge and water. For mild stains on the wall, dip your damp cloth or sponge into a water mixed with dishwashing liquid (the milder the better). For more intense stains, go a little stronger using products like Fantastik or Formula 409. Be aware that the stronger the product, the softer it can make your paint. When you're finished cleaning, rinse off surface again with clean, damp cloth.
Organizing Closets and Shelves
Organization is key to having a home that looks and feels fresh. It's a good practice to organize and re-organize your closet two to three times a year. So, why not do this during your spring cleaning ritual while it's dusting time any way? Plus, organizing and rearranging gives you the feel of new space without actually have to purchase a whole new wardrobe or a brand new home.
Cleaning Appliances
Our appliances often go unnoticed which is unfortunate, because they need to be cleaned just as badly as everything else in our home. Take several minutes to wipe down the exterior of the refrigerator, stove, dishwasher, and even the inside of your sink…and don't forget the washer/dryer. After you've completed that fairly simple task, it's time to clean out the refrigerator. This is the time to throw away the salad dressing you haven't used in over a year or toss out the leftovers that you know you'll never eat. When you're done with that, remove everything from the shelves and begin scrubbing away. Using extra strong products like Clorox Cleanup guarantees the removal of any buildup. When that's complete, replace your items in an orderly fashion and you'll be so surprised at how much you enjoy a clean refrigerator!
Floors
Lastly, come the floors! The floors tend be the dirtiest parts of our home simply because we track so much dirt and debris in from our feet. Simple cleaning tips include the usual – sweeping, mopping, vacuuming. For tiles, use a cleaner that has a "neutral pH" listed on the bottle or make your own homemade concoction of ½ cup baking soda + 2 gallons water and mix well. Apply the liquid with a mop. Same method can be used to clean the grout. But if you find that your floors need a little more TLC, you may want to consider bringing in a professional to come in and really deep clean the carpets to remove stains and freshen the room and/or buffer out scratches on the hardwoods and leave it with a nice shine.
Good luck beginning your spring-cleaning spree. You will be so happy when it's complete, you'll almost think you're in a brand new, fresh and clean, home. As always, InstaLoan is here if you find yourself in a financial bind. Give us a call if the professional cleaning fees exceed your budget. Even if it's just a little bit. We loan amounts ranging from $250 to $5,000. Hopefully, the cleaning fees will be on the lower end of that, but if you get motivated enough to have all of your floors and rugs cleaned (especially nice silk rugs), you may find yourself needing a little extra cash…and InstaLoan is more than happy to help! We know how important it is to get the cash you need fast and can process your loan in as little as 30 minutes. So, don't hesitate. Let InstaLoan help! The InstaLoan team members are happy to answer questions pertaining to your cash needs. InstaLoan offers a variety of different loan options which is why InstaLoan is one of the nation's best consumer finance companies.