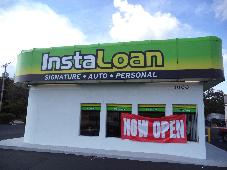 InstaLoan of Longwood FL has recently joined our family!  We are thrilled to have another store that can help people obtain the cash they need quickly…especially during this time of year when people need cash the most.  The holiday season is such a wonderful time to spend with family and friends, but sometimes we find ourselves in a bind, because we need cash and we need it now!  Well, now InstaLoan of Longwood FL is here to help!  Stop in any time, Monday – Friday from 9:00 a.m. – 7:00 p.m. or on Saturday from 10:00 a.m. to 4:00 p.m., and let one of our newest members of the InstaLoan family help you. Short-term lending options are in high demand several reasons, but one of the most important reason is because it's fast!  Our loan process typically takes 30 minutes or less, which means that we can have you in and out the door with cash in less time that it would take you to watch a movie or go out to eat at a restaurant.  So, regardless of the amount of money you need to borrow, know that InstaLoan is your best option because we know how valuable time really is. Our friendly team members are happy to assist you and guide you through the lending process. You can expect them to explain our loan products to you so you are completely "in the know".  Don't be overwhelmed by the variety of cash solutions we offer…that's what our InstaLoan representatives are here for.  You may ask any question you like and we are sure to help you out. Stop in and visit us at any of our other 100+ InstaLoan stores throughout Georgia and Florida.  If you prefer to chat with us over the phone first, we can do that, too! Call us at 855-849-LOAN and one of our friendly phone representatives will be happy to help you. InstaLoan offers a variety of short-term lending answers including the following:  1st lien loans, signature loans, and personal loans.  Your credit score plays a small factor in the approval process.  Simply call us at (407) 262-0059 to make your appointment or visit us at 1000 S. Highway 17 92, Longwood, FL 32750.  InstaLoan of Longwood is located at the E Wildmere Avenue intersection, next to the shopping plaza with Domino's and Shovelhead Lounge.  Stop by and visit us, and make sure to bring the following items to be approved for a loan with InstaLoan:
Some form of collateral (typically your car)
A government-issued ID
Proof of income
With these 3 items you can be approved instantly for a cash loan. Don't worry about your credit score!  It only plays a small factor when going through the approval process. Don't live in Longwood? That's OK. There are three convenient ways to contact us:
Call us toll-free at 855-849-LOAN from 9:00 a.m. – 7:00 p.m. Monday – Friday and 10:00 a.m. – 4:00 p.m. on Saturday.
Contact Us online today and someone will get back to you as soon as possible.
Visit your new InstaLoan location listed above, or use our Store Locator and enter your zip code to find a different location.
To learn more about signature, personal, or 1st lien loans, visit our Frequently Asked Questions page by clicking Loan Information.