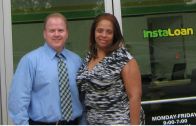 We are excited to welcome our newest team, InstaLoan of Columbus, GA.  We are pleased to provide you with three convenient locations to choose from in Columbus.  John and Lisa, pictured above, are excited and ready to help you obtain the short-term cash you need.  InstaLoan offers a variety of short-term lending solutions, including: signature loans, personal loans, 1st lien loans, and auto equity loans. Not sure which loan is the best for you?  That's OK!  We are here to help.  Just stop in any of our InstaLoan Stores including our newest store located at 3640 Buena Vista Road, Columbus, GA 31906 or call us at (706) 683-9184.  Store hours of operation are Monday – Friday from 9:00 a.m. to 7:00 p.m. and Saturday from 10:00 a.m. to 4:00 p.m.  We look forward to working with you but before stopping in, please make sure to have the following items in order to be approved for a loan with InstaLoan:
Some form of collateral (typically your car)
A government-issued ID
Proof of income
With these 3 items you can be approved for a cash loan instantly. Worried about your credit?  Don't be!  Your credit score only plays a small factor in the approval process. Don't live in Columbus? That's OK. There are three convenient ways to contact us:
Call us toll-free at 855-849-LOAN from 9:00 a.m. – 7:00 p.m. Monday – Friday and 10:00 a.m. – 4:00 p.m. Saturday.
Contact Us online today and someone will get back to you as soon as possible.
Visit your new InstaLoan location listed above or use our Store Locator and enter your zip code to find a different location.
To learn more about signature, auto, personal, or 1st lien loans visit our Frequently Asked Questions page by clicking Loan Information.